Catholic Senior Dating Review
-
UPDATED Sep. 2023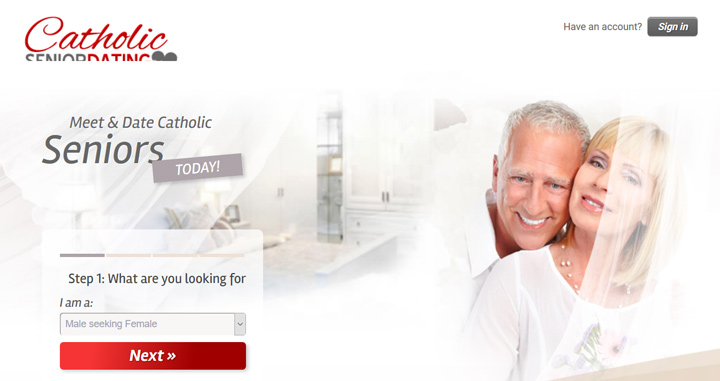 Just because you reached a certain age does not mean you should close the door on romance or love. Your golden years are the most rewarding part of your life, with enough time to do all the things you enjoy without a job and other mundane annoyances standing in your way.
Catholic Senior Dating is a unique platform that gathers people of faith from pretty much any country in the world, allowing them to have flourishing love lives and meet new and exciting people who live by the same core values.
If this sounds like something you might be interested in, keep reading this honest Catholic Senior Dating review to learn more about this devout community and determine if it matches your personal expectations.
First Impression
Given that senior citizens usually do not have too much experience with computers and the Internet in general, Catholic Senior Dating was primarily designed for functionality and ease of navigation. In other words, you should have no problems creating your personal account and discerning what certain options do.
The homepage is pretty straightforward with a simple registration form located at the very top. While researching for this Catholic Senior Dating review, we were also pleased to see a link for the site's FAQ right there on the home screen, so you can get answers to all of your questions even before creating a profile.
If you still have some questions after going through the most common questions, there is also 24/7 customer support at your disposal and the staff is always friendly and forthcoming.
Design And Functionality
As mentioned in this Catholic Senior Dating review, we are talking about a very simple platform that is easy to use.
The homepage is dominated by white with a beige ribbon that gives it a dose of sophistication and elegance. In other words, the aesthetic is perfect for senior individuals of faith. There are no flashy features designed to distract you from the important things or trick you into doing something you otherwise would not.
The aforementioned registration form only requires your gender, age, email, and screen name. After providing this information, the system will generate your account and you will be granted access to your personal dashboard.
Once you enter your portal, you will see a number of available options located at the very top. You can customize your profile and define your search preferences by navigating a series of convenient dropdown menus.
All of the functionalities are pretty clear and intuitive, which makes Catholic Senior Dating an ideal platform for new arrivals to the world of online dating.
Join Catholic Senior Dating And Start Dating Today
Features
Catholic Senior Dating is a free website with a number of VIP features implemented to help VIP users make their profiles more recognizable and stand out from the crowd.
With a free account, you can create and modify your profile, search other members, and upload photos. Apart from the basic search based on gender, age, and photos, you can utilize advanced search options, which offers a wide variety of niche filtering criteria. Some of them include ethnicity, national heritage, build, height, eye/hair color, hair length, best features, attractiveness, health conditions, children, willingness to relocate, education, employment, annual income, and many more. VIP members can also search for people by their usernames and interests.

Apart from this, premium membership grants you access to unlimited messages, flirts, and social media handles for all other users. Furthermore, as a VIP member, you will be able to see who viewed and liked your profile, so you do not have to go in blind and start a conversation with somebody who might not be interested in you.
Featured members also receive the so-called icon badge and their profiles are periodically placed on the homepage for maximum exposure. Apart from this, they will always show at the top of the search results with an attractive profile highlight.
Before you create your account, you can only contact customer support through a dedicated contact form. On the other hand, as an existing member, you get access to a phone number and can talk to a real support representative 24/7.
Members
Catholic Senior Dating is a relatively new platform, so its member base is not overly impressive, but new users are pouring in on a daily basis. Even if you are unable to find single Catholic seniors in your area at the moment, just give it a couple of days and somebody will definitely show up.
Currently, the member base mostly consists of single women, which makes Catholic Senior Dating a perfect tool for senior Catholic men looking to meet potential dating opportunities in their area.
The owners of Catholic Senior Dating pay great attention to bots and fake account and implement a variety of screening protocols to weed them out. This means that every conversation you start will be with a real person.
Closing Word
The idea Behind Catholic Senior Dating is to show senior believers around the world that their age does not have to affect their love lives in the slightest. The platform was designed for easy access and effortless navigation, so even a complete beginner should not encounter any difficulties while using the site.
Since we are talking about a relatively young website, the member base is currently in the thousands, but new users arrive on a daily basis, so people from all countries will be able to find potential dating opportunities, not only in their city but also area.