Dating For Seniors Review
-
UPDATED Sep. 2023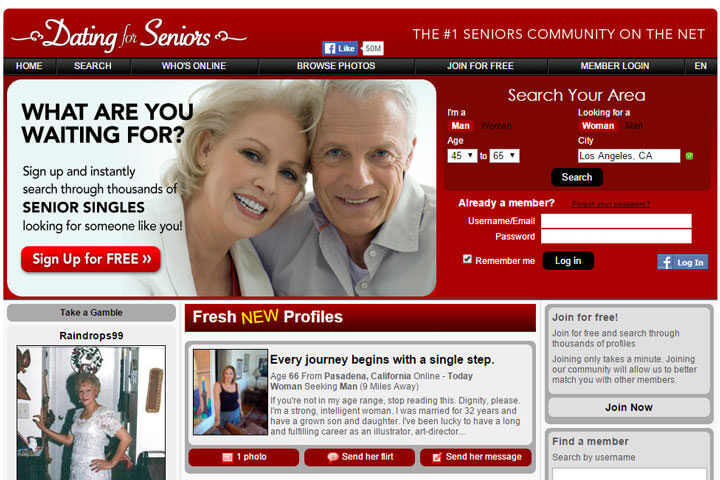 If you are over 50 and would like to make new friends or find romance, perhaps you should consider joining Dating for Seniors as they will enable you to safely get to know like-minded people and talk to them until you are ready to take things to the next level. Read our Dating for Seniors review to learn more about this phenomenal dating site.
First Impression
Dating for Seniors is an Internet dating and matchmaking community for individuals aged 50 and over. The website invites older people to exchange profiles and get to know each other online to determine whether or not they would make a good match. Individuals can sign up for Dating for Seniors and create their profile. The site also allows members to browse existing profiles in order to find a suitable match among the registered members.
Design and Functionality
Since not all seniors are tech savvy, it makes sense that seniors dating sites are usually really easy to use. Dating for Seniors allows its members to effortlessly find whatever option or feature they are looking for on the site. The website itself may seem a little outdated but the whole point of online dating is meeting people, meaning that the design is not really at the top of the members' list of priorities. What is important is that Dating for Seniors is easy to navigate, that all the features are exactly where you would expect them to be, and that there's no way to get lost on the website. Doing research for this Dating for Seniors review was really a walk in the park, which is not something we often say about dating sites.
Join Dating For Seniors And Start Dating Today
Features
Though you can use the site as a free member, upgrading your membership allows you to use the premium search, name search and tab searches for a more thorough search option. Members can send and receive flirts to initiate contact with other members, send and receive email messages and set up meetings with other members. Paid members' profiles are detailed with in-depth information about their personalities, educations, backgrounds, interests and reviews of their relationship goals.
Once a member identifies someone with whom they would like to initiate contact, they can click on a button to alert the person that they would like to make contact. There is a real-time chat that allows the individuals to chat with each other or a member can simply drop into the chat room.
Each member can create their own 'Little Black Book' that allows them to keep track of the people with whom they have been in contact and access to their private photos. There are also different features that enable people to connect quickly on a deeper level while the "Invisible Mode" blocks a member's profile from searches even as the member is still able to conduct their own searches. The site management reviews all complaints quickly and will exclude offending members.
Membership begins when a consumer fills out a profile that offers basic personal information and feedback. The profile includes a "headline" that sums up their personality and a few sentences that offer some general information about their background, interests and relationship expectations. Members may post their photos on their profiles. Each member reviews the matchmaking profiles of the other members as they consider which profiles may indicate that the individual will be a good prospective partner. All members can send flirts to someone who perks their interest and full members can send emails. A unique feature of Dating for Seniors is the Little Black Book. Members can add other members to their Little Black Book which allows them special access to select photos and other private data. One member can see another member's Little Black Book only with authorization. If one member submits a substantiated complaint about someone who abuses their Little Black Book, Dating for Seniors will revoke privileges from the individual about whom the complaint was submitted. Fees and cost are very reasonable.
Silver and Gold members also get access to a username search and expanded searches with a much wider range of criteria covering most attributes constituting member profiles. We do feel that this could be improved upon as many of the search elements aren't really about a member's personality or life, and those are sometimes very important. For example, if you're looking for someone of a particular religious faith then this site isn't ideal because you cannot choose that as a search option.
Members
One of the most important aspects of this Dating for Seniors review is the website's membership base. Fortunately, you don't have to worry a thing when it comes to the number of members you will find here. The site is constantly growing, which is great as new members join every day. There are more women than men on the website but this shouldn't discourage you – just start browsing the profiles and you are bound to find someone you like. Everyone on the site is nice, pleasant, and friendly, so you'll definitely find someone to talk to in no time.
Closing Word
If you're interested in learning more about the site and online dating you'll find an online magazine with advice columns, articles, polls and more. You can also read member testimonials, start your own blog or join a group based on topic or locality. These are interesting features which allow you to talk with members outside of private messages, engaging with them based on their thoughts and opinions in an easy-going chat area amongst like-minded people. These are also features that you will rarely find on other senior dating websites, which is why we believe that Dating for Seniors is one of the best dating sites on the market.