Match Review
-
UPDATED Sep. 2023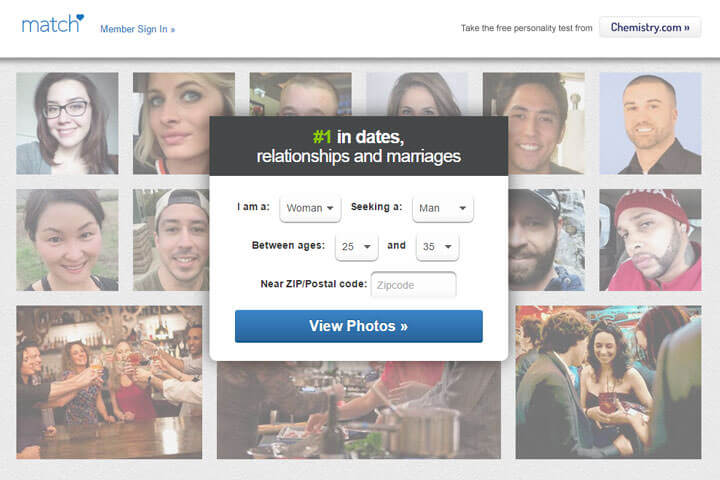 Whether you are single, divorced or widowed, there's no reason why you shouldn't meet new people, go on dates, and start relationships throughout your golden years. To help you achieve your goal, this Match review provides you with all the information you might need about this hugely popular dating website.
First Impression
This website claims to be the perfect place for mature singles looking to get into online dating. It's one of the best senior dating sites that we've come across, featuring thousands of profiles, great features, and attractive prices. It doesn't quite compete with the top choice in terms of membership base or range of features but is still a wise choice for the discerning dater.
Design and Functionality
Though the website is pretty modern in appearance, it in no way implies that Match is difficult to use; on the contrary, it is one of the easiest dating sites to navigate, which is good news for seniors looking for love.
While doing research for this Match review, we were pleasantly surprised with the functionality of the site as well. Everything on the site is exactly where it should be, so you really won't have any problems finding the options and features you want to use.
Find Your True Love On Match Today
Features
Match is free to join and all you need to complete your registration is a valid email address. Although you were previously required to fully complete your profile in the past, this site now lets you skip all the long questions and start browsing immediately after you've verified your email address.
Profiles are detailed, with basic information, physical attributes, personality traits, lifestyle preferences and a self-written section. The majority have at least one photo, which suggests that members are enthusiastic and serious about putting effort into their profiles.
It's possible to upload up to 10 photos and there's plenty of guidance and stipulation on how to go about composing and uploading your pictures. As a result, the standard of images is very high. Unfortunately, as a standard member, you're unable to see full-size photos, so you'll have to upgrade in order to do so.
From a member's profile, it's possible to start communicating in a number of ways. You can also send requests to chat in real time using IM messenger and video chat features, which allow you to get to know people that little bit better than email. If you add somebody to your favorites list, they will be informed. They will also most likely check out your profile. In addition, you can send friend requests and build your own friends network.
It doesn't end here. Live chat rooms enable you to meet lots of members in one place (though the chat rooms were pretty quiet when we checked) or you can go out on your own (e.g. to chat just with people in your friends network).
With reference to search tools, the options are slightly more limited than on some of the other top sites but still perfectly good, comprising a quick search for people who aren't too specific (gender sought, age range, location) and allowing you to filter your results (members with photo/video/online now).
Meanwhile, the advanced search lets you set a wide range of profile criteria (comprising lifestyle preferences, relationship details, interests, appearance and much more). You'll also find some tab searches (e.g. members online now). As mentioned above, the site's very well designed and easy to use so you should have no problem mastering the features in no time.
Members
At the time of this Match review, there were well over 500 online and hundreds of thousands registered on the site, offering a pretty good chance of finding a date on the site.
All the members are really friendly, charming, and nice people who joined the website to meet like-minded folks, make friends and find romance. Both genders are equally represented on the website, which is not something you see that often on dating sites. Also, it's good to know that there aren't many fake profiles, so you don't have to worry about this ruining your experience.
If you want to take things to the next level with another member but don't necessarily want to meet up alone, you can attend one of the regular events that are set up by the site and its members, or even request that an event is advertised for others to attend.
Closing Word
We really enjoyed doing this Match review for a number of reasons. First of all, the website provides its members with all the features needed to ease online dating. Second, there are thousands of great members just waiting to meet someone new. Finally, from the moment you join this community, you get to have fun and feel at home at the same time, which is truly unique in the world of online dating.