Our Time Review
-
UPDATED Dec. 2023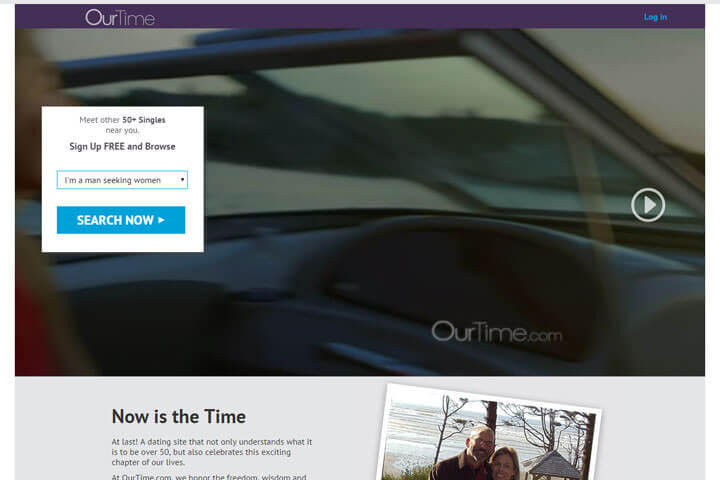 Dating is always scary but seniors have a much harder time finding love as they don't really have too many chances to meet other people. Fortunately, senior dating sites have become super popular recently, allowing the elderly to make friends, go on dates, engage in meaningful relationships, and enjoy their golden years to the fullest. Read this Our Time review to find out more about the website that was designed to help seniors meet other seniors.
First Impression
Our Time is part of the PeopleMedia group, which is owned by Match.com. If you've not heard of Match.com then, put simply, it's a massive community of single people who are looking for dates all over the globe. As such, you can expect a well-organized website in OurTime.com, as well as relevant and useful features for helping you find the ideal date. You will find all the information you need about this website in our comprehensive Our Time review.
Design and Functionality
We do feel we should start with a few simple but relevant traits of this site. In particular, we think it is easy to navigate this website and find whatever feature you are looking for. The search options are well considered and arranged, too.
The functionality of the website is not perfect, though. For example, the search results are not always displayed in the best way possible and you have to click "next page" over and over rather than simply being able to skip through several pages at once. You might think this isn't that important but if you spend a lot of time performing searches on the site then you'll become a bit bored with having to press that "next page" button to get to the people you wish to see.
As for the design, it's almost flawless. We really liked the fact that it's super modern, unlike so many other dating sites that cater specifically to seniors.
Create Your FREE Profile On Our Time Today
Features
The most significant part of this Our Time review is the 'features' section. The website is packed with useful features that will help you find friendship and love online. Alongside the above-mentioned search option, you are also provided with instant matches, which become more precise as you provide the site with more information about yourself. This is a good way to view profiles you might otherwise have ignored.
Many of the members have uploaded clear photos, which is great to see as it gives you a good idea of how someone looks. They have also taken the time to write about themselves and provide all the necessary information so that you can find people based on your personal preferences.
If you're interested in meeting the newest members, you can add them to a list of your favorites if you'd like to contact them again in the future.
Upgraded members gain several benefits. Primarily, you can send and receive messages from members, meaning that you won't have to have a one-way and unsatisfactory communication. You can also find out some sneaky information such as when your messages have been read or who has added you to their list of favorite members. This provides you with an opportunity to make a follow-up message in the hope that someone is interested in you.
Members can also upload videos which you can watch, and you can talk to them using a live chat feature. There's little in the way of community features and we think that improving this with forums and message boards could really add a new dimension to this dating website.
Members
The membership base on Our Time is a solid one, with just slightly more women than men. However, you can be certain that you will find someone to talk to as everyone is more than friendly and eager to meet new people. You can chat with whoever you like and also make great friends along the way. On the other hand, if you are strictly looking for love, you will definitely get to know amazing, attractive people and arrange to go on dates with them.
Closing Word
Overall, OurTime is a solid site for seniors to find dates. Prices are fair and if you do find someone who looks like your bag of biscuits, then it's well worth upgrading to get in touch with them. It may not be the best senior dating site out there but it is a great place to try your luck.