Over 60 Christians Review
-
UPDATED Sep. 2023

The time when dating sites were reserved for the young is long gone. Today, seniors make up a large portion of dating site users and the number of platforms specifically catering to golden-agers is rapidly increasing.
While searching for the best online matchmaker for Christians in their golden years, we came across Over 60 Christians, a site that seemed extremely promising, considering how fast its member base is growing and how tight-knit its community seemed to be.
After a detailed exploration of the site, we have decided to share our impressions with you in this Over 60 Christians review.
First Impression
When we first laid our eyes on the busy home page of Over 60 Christians, we were a bit overwhelmed. The creators of the site want you to get a full sense of what you can expect as a member before you sign up. You immediately get to see the basic options and features, take a quick look at the profiles of new members, find out how easy it is to find members of your age in your area, and more, so be prepared to absorb a lot of information as soon as you enter the site.
You also get to discover that you can register for free in just a couple of clicks. You are merely required to fill out a form asking you for your email address, gender, sexual orientation, birth date, nearest city, and preferred username and password. You can complete the entire signup process in a minute.
Once your information is safely stored in the site's database and protected from potential intrusions and misuses, you can proceed to your personal dashboard and start exploring the site and its member base.
Design And Functionality
We want our review of Over 60 Christians to be 100% honest, so we have to say that we are not particularly impressed by the site's design. Namely, the folks behind Over 60 Christians seem to have wanted to make it easier for golden agers to find everything they need straight away and there is nothing wrong with that. However, what they tried to do is fit everything within a single page, which made the environment cluttered.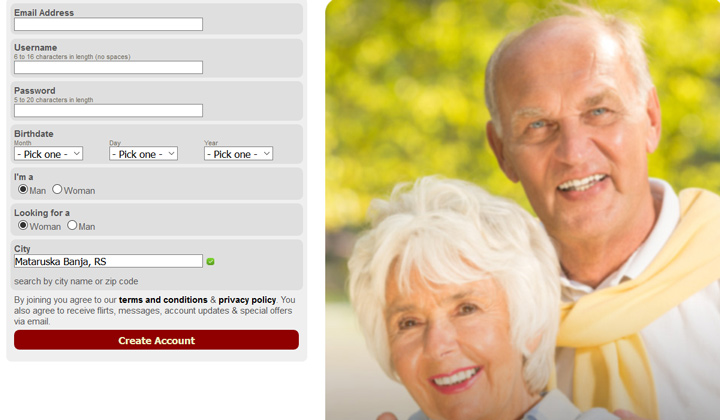 We are not saying that the site is hard to navigate. Rather, we think that it could be more neatly organized. We would also like to see some livelier colors that would make it seem more friendly.
As much as the design could use improvement, the site's functionality is beyond reproach. Everything loads and works perfectly and we did not encounter even the slightest issue during our tests. Therefore, you do not have to worry about getting stuck or having troubles figuring out how to make use of a certain feature. The site runs smoothly and it is as beginner-friendly and as they get, so you can get used to it straight away.
Join Over 60 Christians And Start Dating Today
Features
As a newly registered member, you gain access to all the basic features that are available for free. You can create a dating profile, upload photos of yourself, browse and view other members' profiles, search for 60+ Christian singles in your area, send flirts, and receive (but not send) instant messages.
If you find yourself needing more options and features, you can upgrade to the paid Premium membership. As a Premium member, you get to both send and receive an unlimited number of messages. You can further have fun in the chat rooms and use advanced search options to find someone who has all the qualities you expect to find in your perfect partner.
Another interesting feature at your disposal is Rapid Match. This feature brings you profile suggestions complete with usernames, photos, and information such as age and location and you get to decide whether you wish to pass or you like the member and want to let him or her know you are interested. This is a great way to quickly discover a lot of singles that could be a good match for you.
Members
 At Over 60 Christians, you can meet thousands of Christian singles over the age of 60 and hundreds of younger members interested in meeting someone with more life experience. The majority of singles who regularly use the site are from the US, although members from other world countries are not hard to find. At all times, there are at least a hundred singles online, chatting, browsing, and looking for someone new to meet.
The site gathers golden-aged Christian singles of different races, preferences, and interests, which combined with the impressive size of the member base guarantees that you can find more than a few potential dates and even more new friends.
Closing Word
If you like what you have read so far in our Over 60 Christians review, we warmly recommend signing up and discovering even more perks of being a member of this dating community. You can use the site for free, meet plenty of new people who share your beliefs and desires, and just have a good time whenever you log in. Hundreds of golden-aged Christians have already found love on this site and we have no doubt that Over 60 Christians could bring you the kind of romance and happiness you deserve.