Over 60 Dating AU Review
-
UPDATED Sep. 2023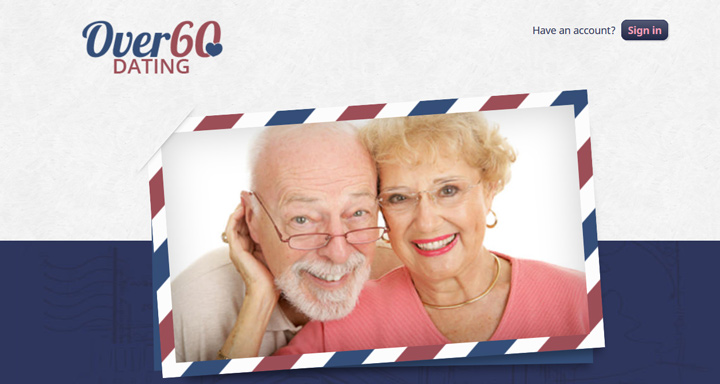 Finding love in your golden years may be much easier than you think. Over 60 Dating AU is a dating website for Australian seniors whose impressive success rate proves that romance after 60 is not only possible but highly common among people who are ready to love and be loved.
Particularly designed to bring golden-aged Aussies together and help them meet someone just right, this dating site is easy to join and use and extremely good at matchmaking. Keep reading this Over 60 Dating AU review to find out why you may want to become a member as soon as today.
First Impression
During our first visit, we noticed that Over 60 Dating AU likes to keep everything nice and simple. Its home page features a lovely photo of a smiling senior couple, a registration form, a mission statement informing you about the site's goal to help you find love, and a welcome message inviting you to choose from thousands of 60+ singles on the site. You further get to take a look at the photos of members who have joined most recently, which can help you get a sense of what kind of people you can expect to meet if you register.
Speaking of registration, it includes only 4 steps, takes a minute to complete, and does not require you to share too many facts about yourself. First, you should simply state whether you are a lady or a gentleman and whether you are looking for a male or female companion. Other details you need to provide include your age, your email address, and the screen name you wish to use. After you enter this information, you can become a member in a click.
For more good news, the site uses double protection to keep your personal information safe. It employs automated security protocols but also relies on human security experts to make sure that your data is not misused and that it never falls into the wrong hands.
Design And Functionality
While exploring the site for the purpose of this Over 60 Dating AU review, we loved that the design gives off a serene vibe and makes you feel truly comfortable from the start. The color scheme is dominated by eggshell white combined with soothing Yale blue and berry red elements. The overall look of the site is elegant and sure to appeal to golden-agers who do not like tacky and flashy details.
What is also great is that the site runs perfectly. All the pages load in a second, every function works properly, and there are zero bugs. You are guaranteed to enjoy a smooth experience and find the site easy to navigate since all the options you need are readily visible and accessible.
Create Your FREE Profile On Over 60 Dating AU Today
Features
You may be happy to hear that you can become a member of Over 60 Dating AU free of charge and use it without paying a dime. With your free membership, you can build a detailed dating profile complete with attractive photos and fun facts about yourself, browse and search the member base to find golden-aged singles near you, and send up to 10 flirts to 10 different members. This should be enough to help you get a sense of what the site has to offer and find out whether there is someone that you may want to get to know a bit better.
If you find yourself needing more advanced features, you can get the paid Premium upgrade. As a Premium member, you can send and receive as many flirts as you like and the same goes for private messages, which are unavailable with the free membership. You can also view full-sized photos and videos of other members while non-paying members only get to see thumbnails. Other useful options include joining chat rooms, discovering social network handles of all users, and searching members by appearance, situation, education, interests, political and religious views, and more. What we particularly like is that Premium members get to find out which members like them and want to meet them, which is a pretty handy perk that can help you focus on people that are particularly interested in dating you.
Members
In the previous sections of this Over 60 Dating AU review, we mainly talked about what the site looks like and what it has to offer. Now it is time to share a bit more details about its growing member base.
Namely, the site gathers thousands upon thousands of senior singles and new members join every day. Although it is primarily designed for 60+ Aussies, its member base does not only include singles over 60 who live in Australia. There are numerous members aged between 40 and 60 and hundreds of members from other world countries, like the US and Canada.

There are just as many lovely ladies as there are attractive gentlemen. On the other hand, heterosexual singles far outnumber homosexual seniors, although we did encounter quite a few members interested in meeting singles of the same sex.
In short, 60+ Australians are more numerous than other members of the platform, but the site guarantees that you can find someone interesting to meet and potentially date, regardless of your preferences in terms of age, gender, location, and other important factors.
Closing Word
At the end of our Over 60 Dating AU review, all that is left for us to say is that we find this dating site to be a perfect choice for golden-aged singles who want to meet new people, enjoy life, laugh a bit more, and find someone to share their days with. The site is perfectly organized, functional, and user-friendly and it lets you get to know thousands of seniors from Australia and the rest of the world. You can join for free in a minute and meet that special person who is just right for you in every possible way.