Senior Chat City Review
-
UPDATED Dec. 2023
The welcome page on Senior Chat City is not exactly the most exciting in the world, we have to be honest. We are also not that crazy about the color palette, the combo of a few shades of gray, pink and blue is not exactly an artistic marvel. That being said, the welcome picture is a nice one, giving you a clear indication of what you can expect inside –a smiling couple which obviously cares for one another.
Before you enter the website, you are asked a few questions that will determine your future experience on the website, depending on your gender, your age, what you are looking for and your location. From there on, the real experience begins.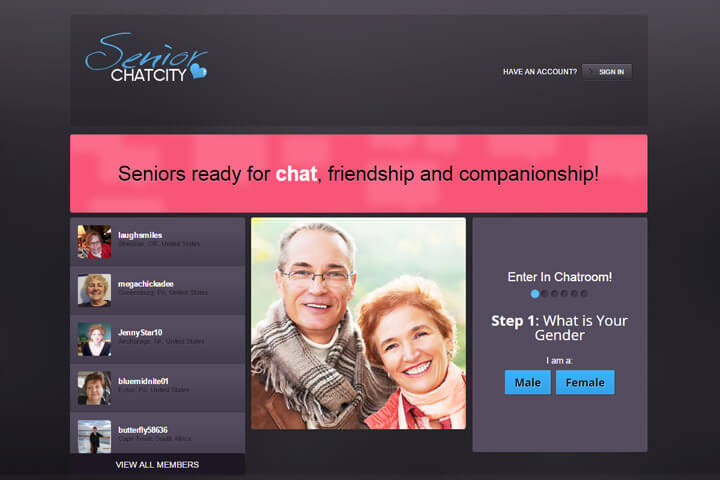 Design and Functionality
Once you are inside, the simplicity of the design starts to pay off in terms of functionality. Everything is clearly laid out and extremely easy to find. The strict geometrics of the design truly do contribute to the functionality and the user experience.
It should also be pointed out that this is a website mainly geared towards seniors, meaning that fonts need to be a bit clearer and bigger and that contrast plays a big role in the design. We are not trying to have fun at anyone's expense, but the reality is such that members of Senior Chat City will appreciate not having to reach for the glasses in order to use the website.
In all the time we have been using the website, we had absolutely no problems with it. Everything loaded in record times and all of the website's features caused no issues. This even includes video chat which is often riddled with issues on similar websites. Not here. Considering the fact that the main feature of the website is chat, we are not really surprised that they made it run like clockwork but it was still great news to see that everything worked great.
Create Your FREE Profile On Senior Chat City Today
Features
Like we already said, Senior Chat City is all about the chat and it is obvious that the rest of the website is considered to be something of a support cast. You can still create your profile and fill it with pics, your interests and everything else that will help you find matches. You can check out the profiles or other members and show your interest in them.
However, the meat on the bones of this website is the chat feature which can involve one-on-one chats or chatting in one of the many rooms that you will find on the website. There is a variety of different chat rooms active at any given moment and you can choose one according to what you are looking for. If, for some reason, you think that none of these chat rooms is what you were looking for, Senior Chat City gives you the ability to start one yourself.
Members
Out of all the senior dating websites we have reviewed here at SeniorDatingExpert, Senior Chat City is the best one for people who are looking for the most matches. One of the reasons for this is that there is a large membership base at this website and there is also the fact that they come from all the different parts of the country and the world that this makes for greater chance of finding the right match.
The members of Senior Chat City are also very varied, meaning that it is near impossible not to find a match, no matter what your interests are, what kind of a personality you have or what type of person you are looking for.
Closing Word
All in all, Senior Chat City is a fantastic senior dating website, especially if you are looking to spend some time chatting away with your new friends. There are always members who are active and online, engaged in a discussion and just waiting for you to join them. It is also a great website when it comes to its membership base which is huge and varied. There is absolutely no reason why you souldn't give it a go.