Senior Date Review
-
UPDATED Sep. 2023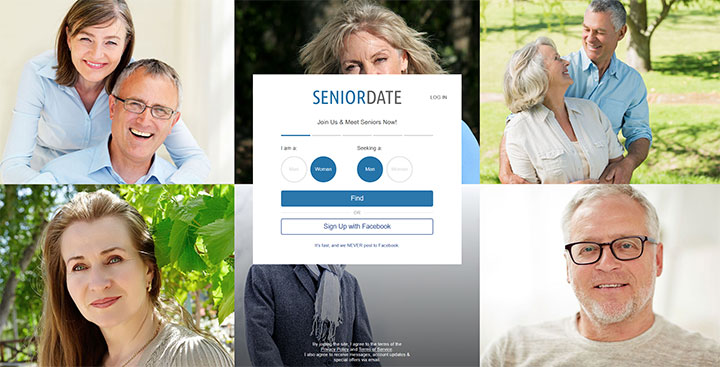 When you reach a certain age, dating can sound like an intimidating and scary concept to even consider. A common dating misconception amongst the elderly is that it is only reserved for young men and women in their 20s or 30s, so why bother? However, that couldn't be further from the truth.
Finding love and romance is everyone's game and that is why more and more online dating websites cater to the over 60s crowd of daters who are looking to connect with like-minded individuals on a daily basis.
Whether you are single, divorced or maybe widowed, you can easily re-enter the dating scene with Senior Date. Learn more about how this senior online dating service can help you find your match in our detailed Senior Date review.
First Impression
As soon as you enter the website, you will be asked to sign up. The site offers very little information prior to registration, so in order to proceed further and see what services are on offer, you will need to provide your personal details and register first. The registration itself is an easy process. You can register with your email or Facebook account and it won't take you more than 5 minutes to create your free account and begin looking for your match by browsing through the existing profiles of other senior singles.
Senior Date values privacy above all else and it will never post to Facebook on your behalf or share your private information with any third parties.
Design And Functionality
Senior Date boasts a very simple and straightforward design and the color palette, a mix of light blues and greys, is fresh and easy on the eye. Navigating through the site is relatively easy and in order to instill and encourage visitors to take the next step into finding their special someone, the homepage background is filled with pictures of happy-looking senior couples.
Browsing through the site comes with no hitches or snags and all of the site's pages and features load with little-to-no delay. Everything is nicely laid out and even members who are not exactly tech-savvy will not have a problem finding their way around. Once the registration process is complete, all of the site's additional features – which we will cover in detail in the Features section of our Senior Date review – are clearly labeled and easy to locate.
However, although Senior Date definitely earns points for its overall fresh design and general navigational functionalities, it is perhaps a little too bare in terms of the information offered. Learning more about the company itself and how the matchmaking process works or even browsing through the testimonial section to read what other members have to say about it could have gone a long way in bringing the website together as a whole. In addition, it is impossible to access or go back to the main website once you are logged into your profile platform. You will need to log out completely or open a new tab in order to access it.
Features
Senior Date is filled with interesting and useful features to help you find your way to your match and you will gain access to them as soon as you have registered and created your account. As mentioned earlier, signing up is a quick process and after entering your personal details, who you are looking for, your residing location as well as your profile photo, you will be taken to your personal matchmaking platform.
With your free account, you will be able to browse through the existing profiles, see who is online, and receive daily matches, which are delivered to you according to the preferences set in your search section. You will also be able to send flirts, which come in the form of preset messages such as 'I think we're a match' or 'Would love to chat with you.' You can also refresh your memory and see the profiles you have viewed and liked as well as view and edit your profile page and settings in order to help suitors find you.
However, as is usually the practice with online dating websites, your free account does come with limitations. In order to fully benefit from the services offered, an upgrade to a paid membership is required.
Senior Date offers a total of 4 VIP Membership Packages to choose from. If you would like to test the waters and see if Senior Date is for you, you can sign up for a paid 5-day trial before committing to any paid subscriptions.
By upgrading to a VIP Premium package, your matchmaking options widen to a great extent. You will be able to send unlimited messages, get more flirts, and see who has liked and viewed your profile. In addition, if you would like to see who you are talking to, you can unlock all of the photos when browsing through the profiles and even see who has put you in their favorites category. Last but not least, you will receive an unlimited amount of undo's when browsing mistakes come knocking and the ability to go in private mode.
Members
It's unclear how many active users there are on Senior Date exactly as the website hasn't made that information public. However, during our research for this Senior Date review, we have come to learn that women and men on the site are almost equal in numbers. Considering that this is an online dating service targeting seniors, there aren't many fake accounts around.
Senior Date's member base is constantly growing with new senior members signing up every day from all over the world, not just from the US. Welcoming all religions, ethnic backgrounds, and sexual orientations to the table, Senior Date ensures diversity – which only means a higher probability of finding a match.
Closing Word
Overall, Senior Date is a fun, inviting, and easy-to-use website. Its features, although relatively basic in structure, are functional, its member base is diverse, and its upgrade packages are reasonably priced, providing good value for your money. It is definitely not the fanciest of websites, but if you are looking for something simple to kickstart your online dating game, Senior Date is an easy and hassle-free place to start.