Senior Gay Dating Review
-
UPDATED Sep. 2023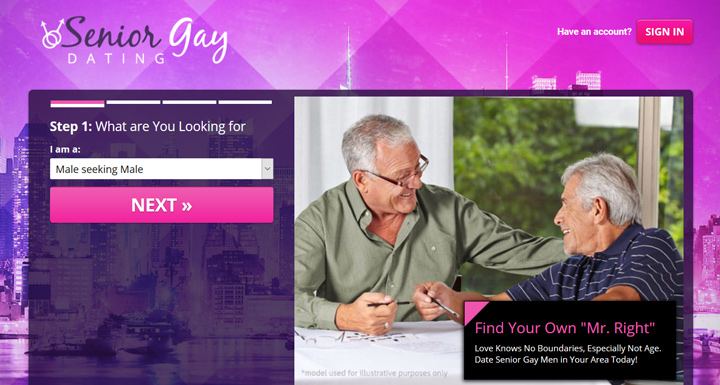 The dating landscape in our modern gay community can sometimes feel overly harsh once you reach a certain age. Idealizing youth makes things rather difficult for millions of gay seniors looking for true love.
Our Senior Gay Dating review will introduce you to one of the rare online platforms designed to show you that you are actually living the most fulfilling and meaningful period of your life.
First Impression
Senior Gay Dating has a very sleek and elegant homepage with a lot of things to see and click. The owners of the site made sure to familiarize you with every aspect of their service before you create your personal account.
On top of this, there is also a link to their comprehensive FAQ section that should answer any questions you might have and disperse any potential doubts about the platform.
Even though there are a lot of integral elements, the Senior Gay Dating home screen is still pretty straightforward and intuitive. In other words, you will know exactly what to do, even if this is your first dating site ever.
The platform was built for functionality and convenience, so you should not have any problems navigating its features and finding your way around.
Design And Functionality
As mentioned in this Senior Gay Dating review, the homepage is rather packed with different useful elements, but it is not crowded as to cause confusion and disorientation. All of the implemented components work well together and provide visitors with much more useful information than we are used to seeing on similar websites.
Apart from this, the combination of light/dark purple and white gives the site a dose of elegance and ensures a calming effect, which is especially important if this is your first dating platform and you are feeling a bit nervous.
The very top of the home screen is reserved for a simple and convenient registration form that allows you to make a profile in just a couple of seconds. After providing your gender, age, country/city, email, and screen name, your account will be created and you will be able to access your main dashboard. An auto-generated password will be sent to the provided email address and you can change it at any given moment.
Once you open your personal dashboard, you will see a ton of different options and information. Everything is very intuitive and you will have no trouble figuring it out in just a couple of minutes.
The left side and the center of the screen are reserved for random user profiles you might like. On the right side, you will be able to perform quick searches based on gender, age, and available photos.
Create Your FREE Profile On Senior Gay Dating Today
Features
Senior Gay Dating is a free platform with some premium features implemented to give VIP members an upper hand within the dating pool.
Free membership allows you to create a profile, search for other singles near you, send flirts, and upload photos and videos. Flirts are excellent conversation starters if you freeze every time you want to send that first hello. The owners of the site are always implementing new features, so you can definitely expect some cool bonus perks in the next couple of months.
VIP members, on the other hand, have unlimited messages and flirts, access to all public photos and videos, and they can also see social media handles of all members. Finally, they can see who viewed and liked their profile and perform searches using interests and screen names.

With the premium membership, you can become a featured member and have your profile periodically appear on the homepage for better exposure. Featured users receive an icon badge, they are always placed at the very top of the search results, and their profiles are highlighted.
The site lets you customize your profile in great detail and provide potential likers with a lot of useful information they can use to break the ice with you. It is one of the most detailed profile systems we have ever seen, with 10 different categories including basic information, interests, appearance, situation, education & employment, leisure & fun, personality, views, what are you looking for, and social network profiles. Every one of these has a wide variety of subdivisions, which allows you to really present yourself in the proper light.
The common chat room is available to both free and premium users, which provides you with an excellent tool to meet new people in a more relaxed setting before taking things to the next level.
Members
Senior Gay Dating is one of the largest online communities dedicated to senior gay singles. It currently features thousands of members from all over the world and more are coming in every day.
Having said that, there are a lot of younger users as well, so we can say that the member base goes between 18 and 80+. In other words, you will definitely find your Mr. Right here and he might even live in your area, you never know.
Closing Word
Senior Gay Dating is a truly remarkable platform designed to enrich your love life and help you find a loving companion and a relationship that will make your sunset years feel like sunrise again.
Apart from its beginner-friendly design and intuitive menus and options, the site also offers an abundance of useful features that enable you to customize your profile and set your searches to match your taste and expectations.
Bottom line, our Senior Gay Dating review painted a pretty good picture of a vast online community made of thousands of mature single gays from all corners of the world, proving that love does not care for numbers and that it is never too late for real intimacy and true love.