Senior Singles Dating AU Review
-
UPDATED Sep. 2023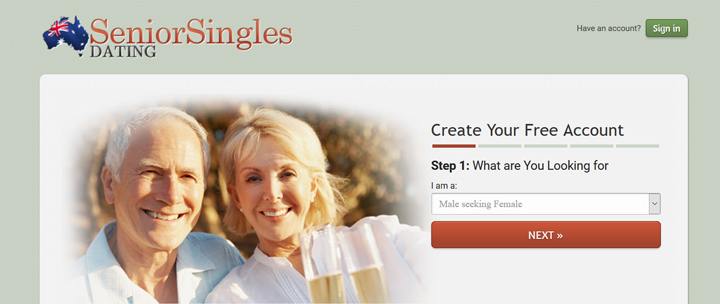 Even though we currently have more dating websites than ever before, dating platforms aimed at senior singles are still few and far between. That is why the owners of Senior Singles Dating AU created one of the largest meeting grounds for senior citizens in Australia.
Our honest Senior Singles AU dating review will provide you with all the relevant information you need to decide if this unique, heartwarming community fits your personal preferences and expectations.
First Impression
First of all, Senior Singles Dating AU is one of the rare websites that caters to both heterosexual and gay seniors. Usually, there is a separation between hetero and gay dating platforms, so this makes for a refreshing change.
The homepage features a simple and convenient registration form, so you do not have to go through a maze of confusing menus and options just to create your account and start browsing the member base.
The front page also features some of the recent registrants in order to provide you with a better grasp of things to come. The website itself is pretty basic and minimalistic, which means the creators put an emphasis on functionality and convenience rather than trying to jam as many flashy-but-useless features to increase the eye-candy factor.
Design And Functionality
As mentioned in this Senior Singles Dating AU review, the website is rather simple, but it still retains a dose of elegance and sophistication, as to honor its member base.
The homepage is dominated by a combination of white and sage green, which, apart from looking good, has the added benefit of inspiring feelings of calmness and inner peace. This is especially important since dating is difficult enough even without websites designed to attack our senses in order to elicit an immediate reaction.
The top-right corner of the user interface features a convenient registration form that allows you to create your personal account in a matter of minutes. The bottom of the front page is reserved for the FAQ/Help section and other relevant links.
In order to sign up, you have to provide your gender, interest (looking for male or female), age, country/closest city, email, and screen name. During registration, you can also opt to sign up for DatingForSeniors.com completely free of charge. Once the system recognizes your account, you will receive an email with an auto-generated password, which you can change at any given moment.
Join Senior Singles Dating AU And Start Dating Today
Features
In spite of its rudimentary design, Senior Singles Dating AU offers a wide variety of implemented features that will help you instantly connect with people who share your interests, views on life, hobbies, religious beliefs, and all other things that you find important.
Senior Singles Dating AU is a free dating platform with some premium features that help members rise above everybody else and connect with more people on a daily basis.
As a free member, you can browse the site and view user profiles, modify your personal data, and send flirts, which is an excellent alternative to starting an actual conversation in case your shy nature tends to get the better of you.
You can perform basic and advanced searches to slowly build a list of potential dating candidates. With that in mind, Senior Singles Dating AU offers one of the best, most advanced searches out there. Apart from regular criteria like gender, age, and location, you can also filter members by ethnicity, national heritage, build, height, eye/hair color, hair length, facial hair, attractiveness, health conditions, education, employment status, annual income, willingness to relocate, smoking/drinking habits, religion, political views, zodiac, and many more.

The comprehensive search functionality basically allows you to "meet" the person you are interested in without saying anything. This is a huge advantage over real-life dating.
Non-paying users can also join the common chat room. The place is always brimming with online users, so you will have no problems finding somebody that is just right for you. If you so choose, you can also activate your webcam and make your chats more personal. There are hundreds of different chat rooms at your disposal, the most popular ones being the singles chat and the global room.
If you want to respond to your messages right away, you can also enable push notifications to start receiving relevant alerts the moment something important happens on your account. Unfortunately, free members cannot send direct messages to other users.
Premium members have access to unlimited messages and flirts, ALL public photos and videos, and social media handles of ALL members. They can also see who viewed and liked their profile. On top of this, they can search members by their screen names, interests, and much more. Lastly, they receive the so-called "icon badge" and have their profiles periodically shown on the front page for maximum exposure.
Members
Senior Singles Dating AU gathers hundreds of members from all over the world. Yes, the site was originally envisioned as a dating platform for single Australians but now serves every single country in the world.
The member base consists of males and females of all ages, from 18 to 80+. The chat rooms are always packed and there are a lot of people online at any given moment. In other words, you will never feel alone on the site or like you are the only one from your city or area.
Closing Word
Senior Singles Dating AU is a convenient and beginner-friendly website initially dedicated to Australian singles but now featuring people from all corners of the world as well. The member base is in the thousands at the moment, with more users coming in every day. It is also a gay-friendly place, which provides users with a refreshing break from the modern culture of segregation.
Bottom line, our exhaustive Senior Singles Dating AU review revealed a flourishing and welcoming community that breaks all taboos and transcends all differences and distances in favor of finding true love.