Seniors Dating Australia Review
-
UPDATED Sep. 2023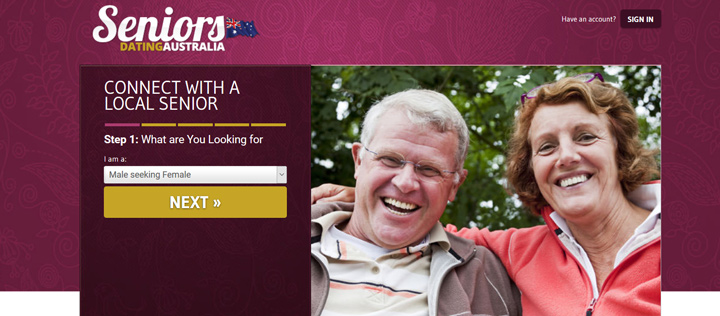 It is hard to be alone, especially when you hit a certain age. The older you get, the more challenging it is to go out on dates and meet someone who can understand and accept you for who you are. But it does not have to be like that. Life goes on and there is always a chance you will find love again.
Senior Dating Australia is dedicated to providing its members with a second happily ever after. Its mission is to connect senior singles throughout Australia and help them spend their golden years feeling loved and cared for. If this is something you are interested in, read this honest Seniors Dating Australia review to gain a better understanding of what this online dating platform for seniors can do for you.
First Impression
There is only a simple 5-step process separating you from becoming a member of Seniors Dating Australia. All you need to do is state your sexual preference, enter your age, provide your email address, choose your location, and decide on a screen name.
We are happy to report that the entire signup procedure lasts under a minute. When you create an account and get to your profile's homepage, you can immediately browse member profiles or start customizing your own by entering personal information and uploading photos and videos.
While doing research for this Seniors Dating Australia review, we particularly liked that the creators of the site pay great attention to the safety of the members. Right at the bottom of the home page, you can find Internet Dating Safety Tips, something you should carefully read before you embark on this new journey.
Seniors Dating Australia does not share your personal information with any third party unless mandatory or to provide better services. In case of a security breach, the platform will provide you with a report on what has been done toward handling the situation.
As far as first impressions go, we can say that we are honestly impressed.
Design And Functionality
Seniors Dating Australia has a pretty basic design. It is not eye-catching, but it is easy to look at and it serves its purpose well. Considering that this dating platform was created for seniors, the site's priority is to offer clear and easily visible and readable content.
All the features on your profile's home page are neatly displayed, so you can check your inbox, see who is online, browse, search, meet, and chat with other members or upgrade your membership in no time. While you can also see some potential matches on your home page, you can browse the entire member database with only one click. There is a quick search option as well, which lets you narrow your search down based on age, gender, and profiles with photos.
All in all, Seniors Dating Australia has everything a senior dating platform should have in order to provide its members with the best possible online dating experience.
Join Seniors Dating Australia And Start Dating Today
Features
With Seniors Dating Australia, anyone can become a member for free. The free basic membership covers the following: creating an account, uploading your photos, sending up to 10 flirts to 10 different members, and searching the database for people from your area. These are solid benefits considering that you are getting them for free. However, you can additionally improve your chances of meeting someone special by going Premium.
The Premium membership offers good value for money with additional benefits like sending unlimited flirts and messages, seeing members' full-sized photos, watching members' public videos, and gaining access to full profiles and social media handles. Moreover, as a premium user, you get to see who likes you and wants to meet you and you can also search members by their screen names, interests, and more.
Seniors Dating Australia provides excellent customer service, which is available 24/7 for all your inquiries regarding payments or technical and other issues.
Members
Seniors Dating Australia gathers thousands of members from all across Australia. After registering, you will be able to browse all member profiles or perform a search by interests or location. As far as we could tell while researching for this Seniors Dating Australia review, there is an even number of males and females on the platform and most of them reside in Australia. Since this site is all about helping its members find love, there is no room for discrimination against sexual preferences or skin color.

Even though this site's main purpose is to help seniors find love, it does not mean they cannot simply look for a friend or someone to talk to. You can edit your profile so that your preferences include just hanging out, talking, emailing or making friends. No matter what you decide, with new members arriving each day, you will have no trouble finding the connection you are seeking.
Closing Word
To conclude this Seniors Dating Australia review, this online dating platform for seniors features a 5-step signup process that lasts under a minute. Your profile's home page allows for easy access to all the tools you need to meet someone and it is very easy to navigate. The site pays extra attention to its members' safety and there is even a separate section on the page dedicated to Internet dating safety tips. The basic membership is free and while it offers plenty of perks, you may increase your chances of finding love with the premium plan. Most of the site's members are from Australia and you can search for people by city. All that is left to say is that we are giving thumbs up to this online senior dating platform and wish you luck in finding your true match again.