Seniors Find Love Review
-
UPDATED Sep. 2023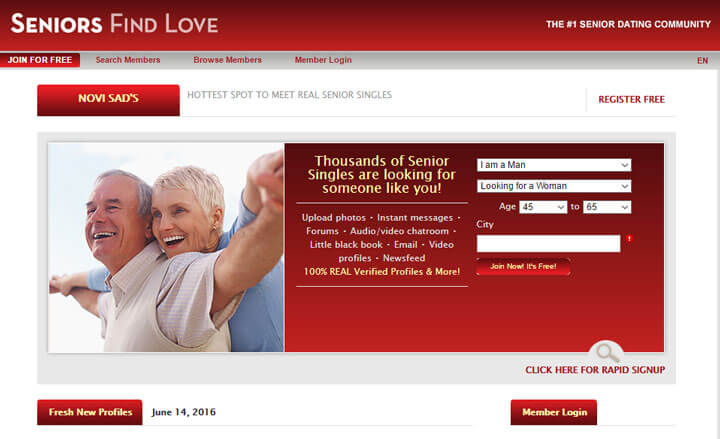 Whether they are divorced, widowed or simply single, many seniors crave companionship, attention, and love just like anyone else. Being over 55 doesn't mean you no longer have your hopes, dreams, and desires, which is why online senior dating is becoming increasingly popular. For the purposes of this Seniors Find Love review, we took a good look at this popular dating site and we have to say we like what we saw.
First Impression
First of all, the website makes it very clear that its mission is to bring seniors together. The name of the website suggests that it's designed to help seniors find their significant others, start new relationships, and fall in love once again, but that doesn't mean that those looking for companionship or perhaps just sex will be disappointed. The website is highly functional and simple to use, which is important for most seniors.
Design and Functionality
If you're expecting some neat, modern, high-end design from a senior dating site, you'll probably find Seniors Find Love to be a bit basic and outdated. This doesn't seem to be a problem for any of the users of the website; on the contrary, seniors seem to enjoy simplicity when it comes to design and they feel no particular need for intricate graphics and illustrations.
More importantly, everything on this website works perfectly and seamlessly, from what we were able to see while doing this Seniors Find Love review. There were no crashes or bugs and all the features were located right where we expected them to be. This is particularly important for seniors who can often feel a bit discouraged if they encounter some difficulties navigating a site.
Join Seniors Find Love And Start Dating Today
Features
As for the features, Seniors Find Love has everything you need for successful online dating. When you complete the signup process, which is very quick and incredibly easy to do, you can either proceed to fill in your profile details and upload your photo, or you can start browsing and searching for matches. You will see some of the suggestions the algorithm has made for you, and if you like someone you see, you can initiate contact. If you don't see anyone interesting (which we doubt), you can always use the search feature (and advanced search, available for premium users), where you can use parameters such as age, location, interests, marital status, and so on. Using the search option instead of just browsing saves a lot of time and allows you to find a more appropriate match.
Communication with other users can be done through different channels. Those who prefer old-timey messaging can send standard messages or e-mails, and those who prefer more dynamic contact can use the instant messaging (IM) feature. There is also the chat feature and you will find that there are plenty of members available to chat with you at any time of the day or night
Seniors Find Love has a very interesting feature called Little Black Book. You can ask a member to add him or her in the book, which grants you access to some hidden things on their profiles, for example, the photos they did not make public and visible to everyone. You can also send "flirts," which is not only fun but also convenient since trying to flirt online can actually be quite complicated.
Members
Seniors Find Love boasts quite a solid membership base. There are folks from all over the world there, although the majority of users seems to be from the United States.  Some dating websites have more female users than male ones, but that's not the case here. From what we saw, both sexes are pretty equally represented.
In order to do this Seniors Find Love review, we contacted some of the members and looked at their profiles. We were very pleased to find that most of the users are decent, open-minded, and charming people eager to meet new friends or partners online, with detailed profiles and plenty of pictures. It's always a good sign to see that someone is serious about their online dating profile. It means those are legitimate profiles, not fake ones or scams.
Closing Word
All in all, we had a lot of fun at Seniors Find Love and we definitely feel it deserves to be classified as one of the best senior dating websites around right now. We found it to be a very laid-back, relaxed community where everyone can feel at home. Although the design is quite basic, all of the features you could ever need are right there and everything works just fine.