Silver Seniors Review
-
UPDATED Sep. 2023
For people who've never tried online dating, the idea may seem a bit intimidating at first. But there's no reason why you should hold yourself back from it if you happen to come across a website that sparks up your curiosity. What's more, many studies have repeatedly shown that being socially active implies the regular use of the latest online tools – dating sites among the rest. Silver Seniors is such a website, tailored to create a homely atmosphere where people can come together to enjoy themselves, make new friends and set up dates.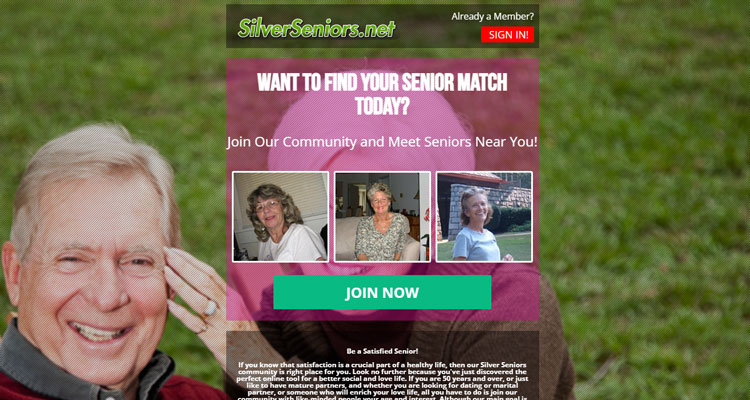 First Impression
Catch a glimpse of this website and it will leave you wondering – how many great conversations are taking place right now? How many amazing people are introducing themselves for the first time? Is anyone arranging a date? There's more than meets the eye when it comes to Silver Seniors, and you're sure to miss out on all the fun if you don't register.
Design and Functionality
Navigating through this website is pretty easy and straightforward, so you need not worry about spending too much of your precious time figuring it all out. It walks you through a simple sign-up process and it's all plain sailing from then on. This online matchmaking community for seniors was designed to maximize your experience and facilitate your search by letting you customize it in a few mouse clicks. Everything is well maintained and you can see that there's a team of experts dedicated to keeping the website up and running. It is convenient and in many ways very stylish, which attracts a plethora of new members every day. You won't find a website that caters to senior citizens and helps them browse as efficiently as this website does. That's a major plus!
Find Senior Singles Near You! Click Here to Start Searching!
Features
Silver Seniors is an online dating community that prides itself on being one of the friendliest chat communities online. It features a number of pretty cool online chat rooms where you can link up with a host of mature singles and have a real-time conversation about any topic under the sun. As an added extra, you get to use an instant messenger. That way, you can stay connected with as many online contacts as you wish, arrange dates, chat and send private messages when you feel like it. One of the most popular options is sending winks – this is how you get notified if somebody likes your profile and is interested in getting to know you better. And it all comes in very handy, especially when you activate a feature that enables you to see who's viewed your profile. A useful addition is reading and writing dating diaries, a special perk that comes with a Premium membership. Additionally, you can edit and personalize your profile, as well as upload several photos to spruce it up at your own leisure.
Members
Keep in mind that this website caters to a group of people who are mature and seeking out either companionship, romance or something more long term. That said, you will also find plenty of members who come online just for an occasional breezy chat. You will get to choose whether you want to connect with seniors from the United States, United Kingdom, Canada, Ireland, Australia or New Zealand. This will allow you to narrow down your search and meet people who live near you. Members of Silver Seniors all share a sense of adventure – they're full of spirit and bursting with new ideas. That is why they're looking to increase their dating potential and enrich their social lives. This online dating tool allows them to create the kind of experience they want, placing them in a chat community that fosters creative freedom.
Closing Word
All in all, this unique dating website provides a memorable experience for senior ladies and gentlemen who like to seize each new day as it comes. It's a practical, easy-to-use online platform that guides you through each step if you need help but gives you enough freedom to browse ads, chat and create your very own online network of contacts. It is the type of dating site you would recommend to anyone looking for a reliable, high-quality service that promises both maturity and fun.