SilverSingles Review
-
UPDATED Sep. 2023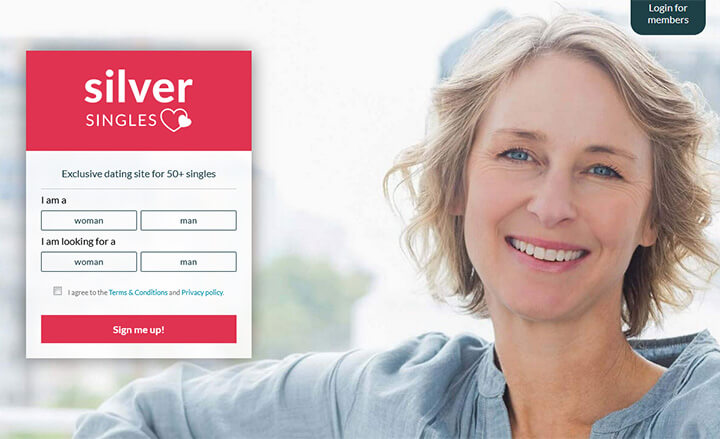 Many think that finding a significant other gets harder as you get older, but the truth is that dating can actually get easier once you reach a certain age. You have a clearer picture of what you want in life and what kind of partner you need. You have already figured out what kind of qualities you value in a partner, what you dislike, and what kind of a relationship works best for you.
SilverSingles is a premium dating site for seniors that collects all the important information about who you are, what you like, and what you look for in a partner and uses this information to find the perfect match for you. Learn more about this unique and successful matchmaker in this detailed SilverSingles review.
First Impression
With most senior dating sites, becoming a member is like going on a blind date. They ask you to sign up right away and do not offer any significant details about their offer prior to registration. SilverSingles employs a completely different approach.
As soon as you enter the site, you get to learn how it works, what kind of daters it is designed for, how it can help you meet like-minded senior singles, how to get started, what kind of help you can get as you are getting used to the platform, and what kind of privacy and security you get to enjoy as a member. That way, it allows you to learn all the key facts about the site before you sign up, so you can decide whether SilverSingles is the right match for your needs. This is an enormous advantage in comparison to the majority of dating sites, so as far as first impressions go, we have to say that we are thoroughly impressed.
Design And Functionality
The creators of SilverSingles know that in order to successfully start a relationship, or a conversation for that matter, you first need comfortable and friendly surroundings. That is why this site is beautifully designed, with a pleasant color scheme, lovely, inspiring photos of senior singles and couples, and all the buttons and features right at your fingertips.
However, the site does not only look good, it also functions perfectly. Everything is clearly organized, there are no glitches, and even if you have never used a site like this before, you can navigate it with extreme ease and make full use of all of its features. This makes it perfect for senior users who are not well-versed in technology and need an easy-to-use dating site that can facilitate their search for an ideal companion.
Join SilverSingles And Start Dating Today
Features
In online dating, your dating profile determines what kind of people you are likely to attract. If you mention the word 'casual' too often, daters may think that you are not looking for a serious relationship, but if you mention the word 'marriage' more than once, you may scare them away because they may feel like you just want to get married right away. SilverSingles makes sure you do not make any mistakes that may diminish your chances of dating success.
As soon as you sign up, you take a comprehensive personality test. It may take a while to complete (15-30 minutes), but that is because it is designed to obtain all the information necessary to find the perfect partner for you. You answer dozens of multiple-choice questions regarding your education, career, hobbies, interests, and personality traits, as well as qualities that you seek in a partner, including appearance, level of education, career success, religion, location, personality, smoking habits, and much, much more.

SilverSingles intelligent matchmaking software uses this information to offer compatible matches. Furthermore, this information helps other members find out what you are like, so they can see what you have in common and whether you could make a nice couple. The same goes for you – with plenty of details about other members, you can easily identify the ones who share your interests, goals, likes, and dislikes and choose the ones you want to get in touch with based on your compatibility. What is great is that SilverSingles clearly displays compatibility levels expressed in numbers for all of your potential matches, so you can see right away which of the candidates is the best match for you.
SilverSingles further helps you enrich your profile by encouraging you to add nice photos and answer random questions that may shed more light on what kind of a person you are.
The range of features at your disposal depends on the type of membership you choose. If you opt for the free, basic membership, you can create a profile and get potential matches on a daily basis. However, communication options are rather limited with the free membership and you do not get to view all the photos and bios of all the members. This type of membership is designed to help you discover what SilverSingles has to offer and whether it is the right choice for you.
With the paid membership, you have a world of options available. With this type of membership, you gain unlimited access to all the content on the website, including all photos and profile information, as well as unlimited messaging, receipts for sent messages, more profile editing options, advanced search, and more potential matches. If you are shy, you can make use of the handy flirting options. You can send someone a smile in a single click, like their photos or add them to your favorites. If you want to find out if anyone interesting has visited your profile recently, SilverSingles can easily satisfy your curiosity with a premium feature that allows you to find out who viewed your profile.
Members
As we found out while researching for this SilverSingles review, this site's member base is expanding at a steady pace and currently includes thousands upon thousands of singles over 50 who come from all parts of the US. However, don't be surprised if you stumble across members who are in their thirties and forties – while designed for seniors, this site attracts a rather large number of younger daters who want to date someone mature and experienced. The members do not only differ in age, but also in interests, education, and a range of other qualities, so there is someone for everyone on SilverSingles.
Closing Word
If you are dreaming about a matchmaker who knows exactly what you want in a partner and uses this knowledge to find dozens if not hundreds of attractive senior singles who fit the description, SilverSingles is just perfect for you. This site makes the search for your ideal companion fun, exciting, and surprisingly easy, with tons of compatible matches produced daily and plenty of interesting ways to get in touch with other members. So, if you are ready for love, it is time to stop hesitating and find someone truly special. SilverSingles can make it happen, so register for free now and bring sunshine into your love life.