Widower Dating Review
-
UPDATED Sep. 2023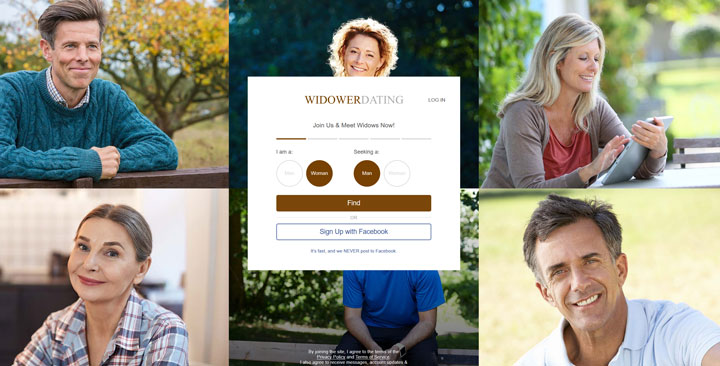 Everybody handles their grief over losing a partner differently. Some people decide never to date anybody else and they usually see it through. On the other hand, some widowers decide to give love a second chance after some time.
If you wish to give dating another shot after your tragic loss, it is important not to see your new partner as a replacement for your deceased wife. Everybody has the right to be happy again and embracing the chance of finding romance once more is in no way a betrayal of your ex-partner.
Reestablishing your dating life after losing a spouse or dating a widower can be complicated, but it is nothing you cannot overcome with a bit of patience and understanding. Our Widower Dating review will introduce you to a lovely online community that will allow you to share your feelings with people who went through the same thing and maybe even connect with somebody on a more profound level.
First Impression
Widower Dating is a simple platform with a very informative and user-friendly homepage. The very top of the screen is reserved for a convenient registration widget that enables you to create your profile in just a couple of seconds.
If you have some doubts about the service, you can contact the customer support staff before signing up and the friendly team will answer any questions you might have.
The home screen also informs you about some of the main features you can use to connect with other members, which makes Widower Dating one of the rare online services that provide you with all the necessary information even before you create your account.
The site itself is very intuitive and user-friendly, so you should not experience any difficulties even if this is your first online dating platform ever.
Design And Functionality
Widower Dating features a very low-key design, which is an excellent choice considering its target audience. The white background with brown elements does not only symbolize the stages of one's grief but also a new beginning.
After gathering all the necessary information about the service, you can create your account using the aforementioned registration form. You need to provide your gender, city/state, age, username, email address, and password. Your profile will be generated in mere seconds and you can then customize it by uploading up to 6 photos and providing a bit more info about yourself.
Once you access your dashboard, all the available functionalities will be located on the left side of the screen for easier access. The right side of the interface is reserved for your personal messages and chats with other members. The central portion of your portal will allow you to customize your match preferences based on gender, distance, and age.
Widower Dating operates very smoothly without any glitches or sudden inconveniences, so you can rest assured nothing will ever interrupt your conversations or mess with your settings.
Find Widower Dating Near You! Click Here to Start Searching!
Features
You can join Widower Dating completely free of charge or upgrade to a VIP membership in order to gain access to even more features and options for connecting with others.
Free accounts can perform basic and advanced searches, use the quick match feature, create their own favorites list, monitor their own viewing history, and use up to 2 flirts per day. Unfortunately, free accounts cannot send direct messages.
VIP members have unlimited messages and up to 5 flirts per day. They can unlock all public photos and see who viewed, liked, and favorited their profile. Since Widower Dating has a Tinder-like feature that allows you to build a list of potential dating candidates simply by swiping their profiles, premium members also get unlimited swipe undos to make sure they never send the wrong signal accidentally. Finally, they can also control the overall visibility of their profile and prevent other members from contacting them.
The basic search feature allows you to filter members based on their gender, age, distance, and available photos. You can later refine your results with a large number of additional criteria, including body type, best feature, eye/hair color, height, ethnicity, pets, marital situation, and willingness to relocate.
If you do not want to wait for members to come online and respond to your messages, you can always see who is online at that particular moment and start a conversation with them right away.
Members
Widower Dating is a relatively new platform, so it currently features hundreds of members worldwide, with more coming in on a daily basis. However, there is a nice balance between widowers in search of somebody special and women interested in dating them.
The owners of Widower Dating take great pride in their efforts to eliminate any fake accounts and spambots, so every dating candidate you decide to interact with WILL be an actual person that wants the same thing you do.
Closing Word
Widower Dating is a unique niche platform dedicated to people who mustered the courage to overcome their losses and want to start dating again. Its welcoming community is full of people who went through the same thing you did, which helps members connect on a more personal level.
The implemented features are very easy to understand and the overall design of the site makes everything very convenient and easily accessible. The platform operates without any bugs, which provides a seamless dating experience. The member base is currently in the high hundreds, with more people pouring in every day.
If our Widower Dating review described a service you might be willing to try, we applaud your courage and strength and wish you the very best in your future dating endeavors.