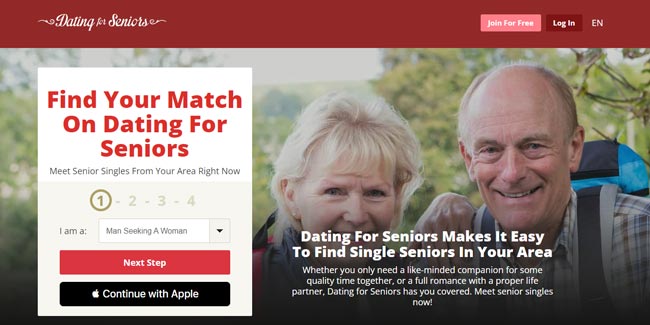 The world of online dating can sometimes be an uncomfortable and scary experience. You get over that first hurdle of joining a site and creating a profile and now you have to start looking at profiles. When you find the one you like, you'll notice that on most platforms there's the only option you can take next and that's to message someone. This is not how things would play out in the real world. We, humans, have developed a host of special non-verbal cues over centuries of communication. Just think how much of a difference can a smile or a look make and you'll know what are we talking about.
In this new, digital world, that step is removed from the process of courtship. A very important if not crucial step towards a healthy and thriving relationship. And precisely because of this some of the Senior Dating sites have introduced a new feature called flirt. Among them is Dating for Seniors, one of the biggest and most popular dating sites for seniors. We already talked about it in our comprehensive Dating For Seniors review. However, what we want to talk about now is their flirt feature.
So, when you join this online community you will notice that besides the standard message option, you now also have the flirt option. If you decide to send someone a flirt, that person will receive a notification straight to their inbox. It will tell them that you've looked at their profile and found it appealing. Now, we all know just how much of a difference can a compliment make. We all love compliments and this puts us in a good mood. So, when a person receives this flirt from you just know that they will like it. No matter what happens next and what can happen next are one of three possible scenarios.

That person can send a flirt back, they can message you or ignore this event completely. As you can notice, two out of these three options are positive outcomes. And even if someone doesn't respond to your flirt, you'll be happy to know that you probably just made their day. On the other hand, you also might receive flirts from other users. You can say they act as a buffer between liking someone's profile and messaging them. They feel natural and less intrusive, making the connection feel more real and honest.
The flirt feature also helps you break the ice with a person you like more gently. It's also a great conversation starter. You might notice exactly what we noticed how this feels more like real-world dating or something like that. Whatever happens next will feel like a natural transition and help you build connections at first and who knows, maybe even find the love of your life. So, what are you waiting for, get out there and start flirting!
But before you do, we have more good news. You should know that as one of the most popular senior dating sites, Dating for Seniors is free to join. And not only that but also the flirt feature is free to use without any limitations. You might go so far as to say that all of this is risk-free dating, something that rarely happens in today's commercial world. So, take advantage of it and make your dreams come true!